CLICK HERE FOR THE DAILY SCHEDULE AT PALMER

PALMER MOTORSPORTS PARK- Palmer, MA
Palmer Motorsports Park in Palmer MA is an exciting venue.
The track has an incredible variety of turn types and elevation - and will help us train motorcyclists to handle most any situation they will encounter on the road.
The track is 2.3 miles long, 40-feet wide, with over 190 feet of elevation - it is a 15-turn rollercoaster ride around a scenic and secluded alpine wilderness.
---
---
DIRECTIONS:
General Location Data:
Mapping Address: 58 West Ware Road Ware MA
GPS Coordinates: 42°13'31.8"N+72°15'22.4"W
Track website:
Palmer Motorsports Parkpping Address: 58 West Ware Road Ware MA
GS Coordinates: 42°13'31.8"N+72°15'22.4"W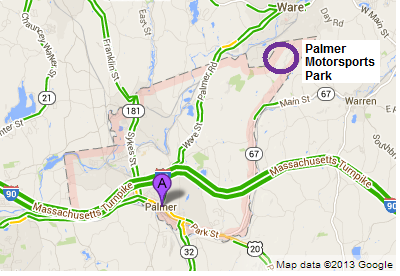 For anyone towing anything large, the track is conveniently located just minutes from the Mass Pike, exit 8. Large Trailers and RV's will be no problem if you follow the route below.
1 - Take Exit 8 off the Mass Pike (I-90)
2 - After toll booth, go right onto Rt 32 South
3 - At first light, take left onto Rt 32 South/Rt 20 East
4 - After about 2 miles, go RIGHT at the fork onto Rt 67 North
5 - After 6 miles, take left onto Ware Road. (you'll see a donut shop on your left)
6 - The track is about 1 mile up the hill, on right
To get to Palmer Motorsports Park from the Mass Pike (via best towing route):
NOISE RESTRICTION: The track is built in a residential neighborhood and has a sound limit of 95db while on track.

While most bikes are under the limit, most of the louder aftermarket exhausts will trigger the meter. Personally, I run stock mufflers on all my bikes and encourage others to do the same. If you have an aftermarket muffler, you should purchase a "DB Killer" type of product that inserts into your exhaust to quiet it down. (Google DB KILLER INSERT for more info)

Please don't email me asking if you will pass as I have no way to tell ahead of time. You can try posting to the TTD Facebook group (NOT our facebook page) as someone else may have your setup?

It seems that somewhere in the 92 to 94db number in the pits is the danger area. Bikes around this number are reading around 99db when on the track at full power. Unfortunately, there are lots of variables (weather, different meters, engine configuration) that prevent us from providing exact hard numbers.

Sorry, but no refunds or credits will be given for bikes that are not allowed to ride due to noise.

ARRIVAL, CAMPING:
Camping is allowed for no charge. If you prefer not to camp, check out the track's website as I believe they have Lodging options nearby.

You can arrive between 6pm and 10pm the day before our first day, or anytime during the trackday dates. Please do not arrive before 6 PM as there is usually an event going on that has to clear out.
If you are in line waiting to get in, please pull to the very edge as some large rigs may need to pass you to get out.
For the full DAILY SCHEDULE, please go HERE.
FOOD: there is generally a food truck available, but look for the email that goes out the week before every trackday with full details.
A food vendor is available for breakfast and lunch. Bring cash as I don't believe credit cards are not accepted.

I would also suggest people bring their own water or gatorade. You can buy it during the day, but that stops at 2 or 3 pm when the food vendor leaves.

(Lunch is included with Non-Sportbike Days only).
BREAKFAST ITEMS: Coffee and sandwiches
LUNCH ITEMS: Variety of sandwiches

OTHER STUFF:
GAS: There is a GAS truck available at the track. Cash is preferred but they can do credit when they have internet access.

There is a building on site with bathrooms and showers.
GARAGE: There are both OPEN AIR (carport) and CLOSED garages (closed have electric) They can comfortably fit 2 to 3 bikes. Go to the link below and click on the day you want to attend to see pricing and to reserve garages. (NOTE: TTD has nothing to do with garage rental, etc. Please contact the track directly with any questions regarding rental.)
http://palmermotorsportspark.com/events.aspx
ELECTRIC: There is limited electric now available along the front straight only, it costs about $20 per event and can be shared. (or you can rent a garage with electric... or you can run a generator)
PARKING: There is a large paddock with numerous parking areas. Please park all vehicles on the dirt and leave the paved area for EZ ups and Motorcycles only. Use the map below to see the available parking options (all the GREEN section). NOTE: As soon as you come in the tunnel, you can take a left turn and go up the hill (the bottom right area in the image). Please park PERPENDICULAR to the pavement on the OUTSIDE only. Half of the pavement can be used for canopies and bikes. Simplest method is to drive across the middle (the red area) and pull straight across into a spot on the outside. If you have to leave early, just back up into the middle again, and you can pull out without affecting anyone else.


SCHEDULE/GROUPS:
Weather permitting, Tech opens at 7PM on Sat Night (or the night before first day). Then again at 7:00AM on each day we're riding.
Riders meeting at 8:15AM Sunday and Monday.
A track walk will happen Sunday night at 5:15PM.
Each trackday, we are on the track from 9 AM to 5 PM with a one hour lunch break at Noon.
We will be running four - 15 minute groups per hour. (Black, Blue, Yellow, Red)
HOTEL INFO: http://palmermotorsportspark.com/Resources.aspx