PALMER MOTORSPORTS PARK- Palmer, MA
Palmer Motorsports Park in Palmer MA is an exciting new venue.
The track has an incredible variety of turn types and elevation - and will help us train motorcyclists to handle most any situation they will encounter on the road.
The track is 2.3 miles long, 40-feet wide, with over 190 feet of elevation - it is a 15-turn rollercoaster ride around a scenic and secluded alpine wilderness.
---
RIDER EDUCATION:
People hear "racetrack" and immediately think RACING. At our trackdays, this could not be further from the truth.
Our trackdays are designed for the average motorcyclist to improve their riding skills - especially turning, braking, and throttle control.
The benefit of teaching these skills on a closed course is so we can remove outside influences and let riders concentrate on the task at hand. Having improved your bike handling skills, you can then return to the road and have more of your attention available for watching traffic and road conditions.
To truly improve your overall motorcycling ability, you can then sign up for the "Riding in the Zone" on street training program with Ken Condon.
---
DIRECTIONS:
General Location Data:
Mapping Address: 58 West Ware Road Ware MA


GPS Coordinates: 42°13'31.8"N+72°15'22.4"W
Track website:
Palmer Motorsports Parkpping Address: 58 West Ware Road Ware MA
GPS Coordinates: 42°13'31.8"N+72°15'22.4"W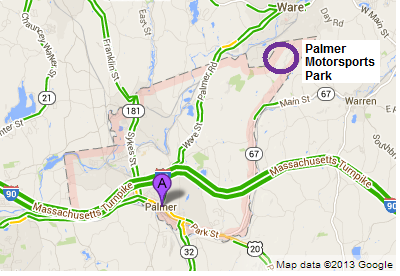 For anyone towing anything large, the track is conveniently located just minutes from the Mass Pike, exit 8. Trailers and RV's will be no problem if you follow the route below.
1 - Take Exit 8 off the Mass Pike (I-90)
2 - After toll booth, go right onto Rt 32 South
3 - At first light, take left onto Rt 32 South/Rt 20 East
4 - After about 2 miles, go RIGHT at the fork onto Rt 67 North
5 - After 6 miles, take left onto Ware Road. (you'll see a donut shop on your left)
6 - The track is about 1 mile up the hill, on right
To get to Palmer Motorsports Park from the Mass Pike (via best towing route):
NOISE RESTRICTION: The track is built in a residential neighborhood and has a sound limit. While most bikes are under the limit, some of the louder aftermarket exhausts will trigger the meter. Personally, I run stock mufflers on all my bikes and encourage others to do the same. If you have an aftermarket muffler, you will just have to take your chances. Please don't email me asking if you will pass as I have no way to tell ahead of time. You can try posting to the TTD Facebook group (NOT our facebook page) as someone else may have your setup?

ARRIVAL, CAMPING:
Camping is allowed for no charge. You can arrive between 6pm and 10pm the day before our first day, or anytime during the trackday dates. Please do not arrive before 6 PM as there is usually an event going on that has to clear out.
If you are in line waiting to get in, please pull to the very edge as some large rigs may need to pass you to get out.
For the full DAILY SCHEDULE, please go HERE.
FOOD:
There will be a food vendor available for breakfast and lunch, and we usually order Pizza for the night between the two trackdays.
BREAKFAST ITEMS: Coffee and sandwiches
LUNCH ITEMS: Variety of sandwiches
DINNER BUFFET (night between 2 day events) - $10 We usually try to order a bunch of pizza and some soft drinks. If you want an adult beverage, please bring it with you.
GAS, Bathrooms, Showers, Electric, Parking:
There is no Gas available at the track. There is a station about 2 miles away.
There is a building on site with bathrooms and showers.
GARAGE: There are both OPEN AIR (carport) and CLOSED garages (closed have electric) They can comfortably fit 2 to 3 bikes. Click on our day on this calendar to see pricing and to reserve:
http://palmermotorsportspark.com/events.aspx
ELECTRIC: There is limited electric now available along the front straight only, it costs about $20 per event and can be shared. (or you can rent a garage with electric... or you can run a generator)
PARKING: There is a large paddock with a paved section. Please park all vehicles on the dirt and leave the paved area for EZ ups and Motorcycles only. PLEASE... park close to your neighbor as we need all the spots.
HOTEL INFO: http://palmermotorsportspark.com/Resources.aspx